Mung Bean Pancakes with Zucchini and Kale Filling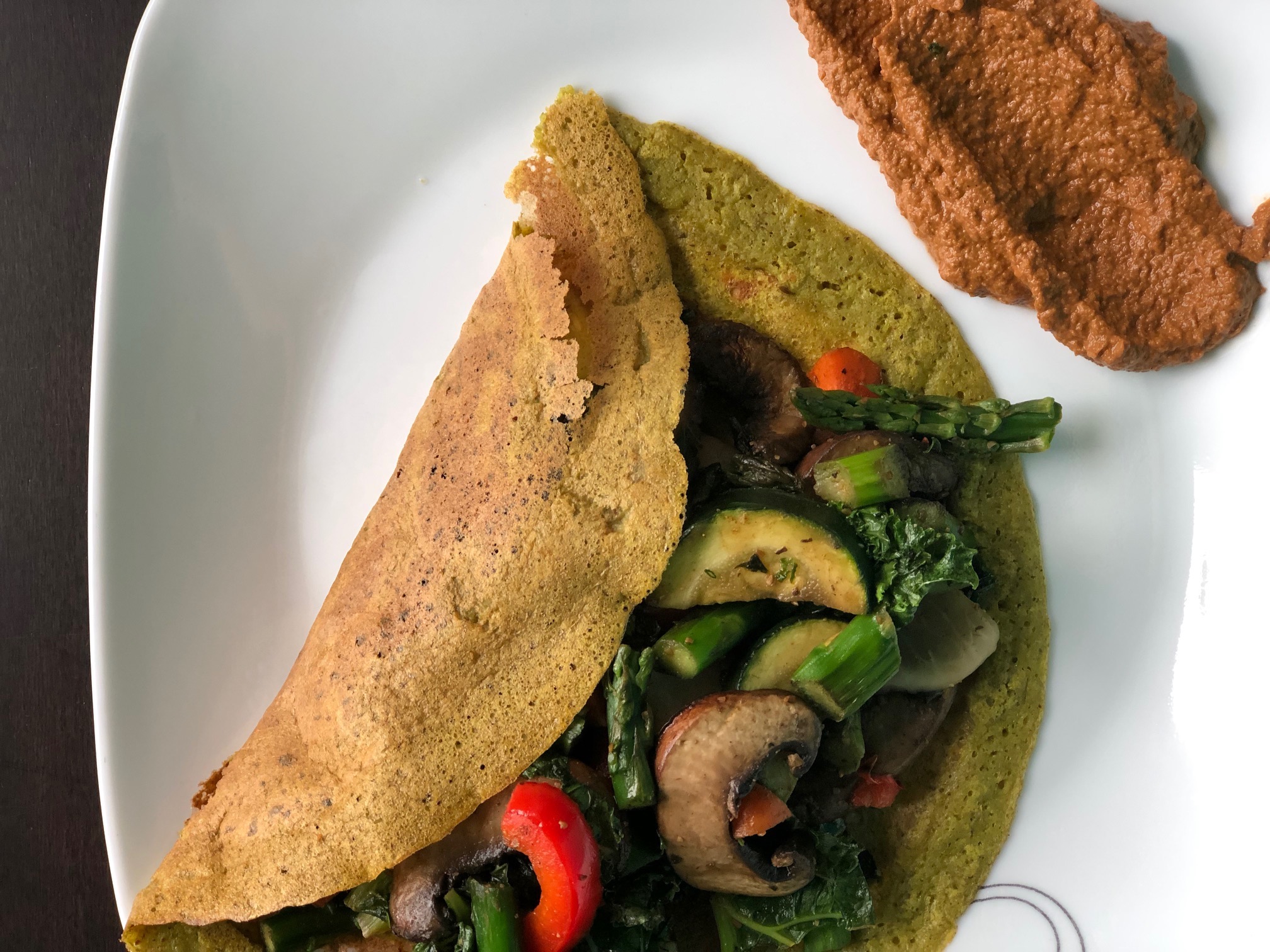 These pancakes are savory, healthy, vegan and easy to make. Eat them for breakfast or make them a part of a light lunch.
Prep Time

15 min

Cook Time

10 min

Total Time

25 min

Ready in

6 hrs

Yield

4 pancakes

Serving Size

200 g
Cuisine

Course

Suitable for Diet

Gluten Free
Low Calorie
Vegan
Vegetarian
Ingredients
1 cup whole green mung beans
1 tbsp basmati/idli rice
1" piece ginger
1 small green chilli (optional)
¼ tsp. turmeric
1 tsp whole cumin seeds
Salt to taste
Oil/ghee for shallow frying
For the filling
¼ tsp. asafoetida
1 tsp. whole cumin seeds
½ tsp. turmeric
¼ cup sliced onions
2 cups chopped zucchini
3 cups shredded spinach/kale
2 tbsp. chopped raw cashews
¼ tsp. deghi chili powder
½ tsp. crushed coriander powder
Salt to taste
2 tsp oil
Method
Preparation
1
Soak mung beans and rice for 4-6 hours or overnight. Drain and grind to a thick smooth batter with ginger and green chili. (You can also soak the mung beans longer till they start sprouting to enhance the nutritional content).
Cooking
2
Add cumin seeds, turmeric, salt to taste and mix. Keep aside and prepare the filling. (This batter can be refrigerated for 5 days or frozen for 3-6 months).
3
Heat oil in a heavy bottom pan. Add asafoetida and cumin seeds and stir till the cumin changes color.
4
Add onions and fry till they are translucent. Add turmeric and mix.
5
Add cashews and zucchini and sauté till they are slightly brown.
6
Add coriander powder, chili powder and salt to taste and stir.
7
Add the shredded spinach/kale and mix till it gets wilted. Keep the mix aside. (Taste to check seasoning and add if more is needed).
8
Heat a griddle or a crepe pan and grease it with oil.
9
Pour a ladle of batter in the middle and spread it outwards in a circular motion. Spread some oil on the sides and cook on medium heat till the sides start leaving the pan. Flip and cook on the other side as well.
10
Flip again and add a 2 tbsp of the prepared filling in the middle and fold the pancake.
11
Serve hot with coconut chutney.
Share this recipe