Curried Butternut Squash Soup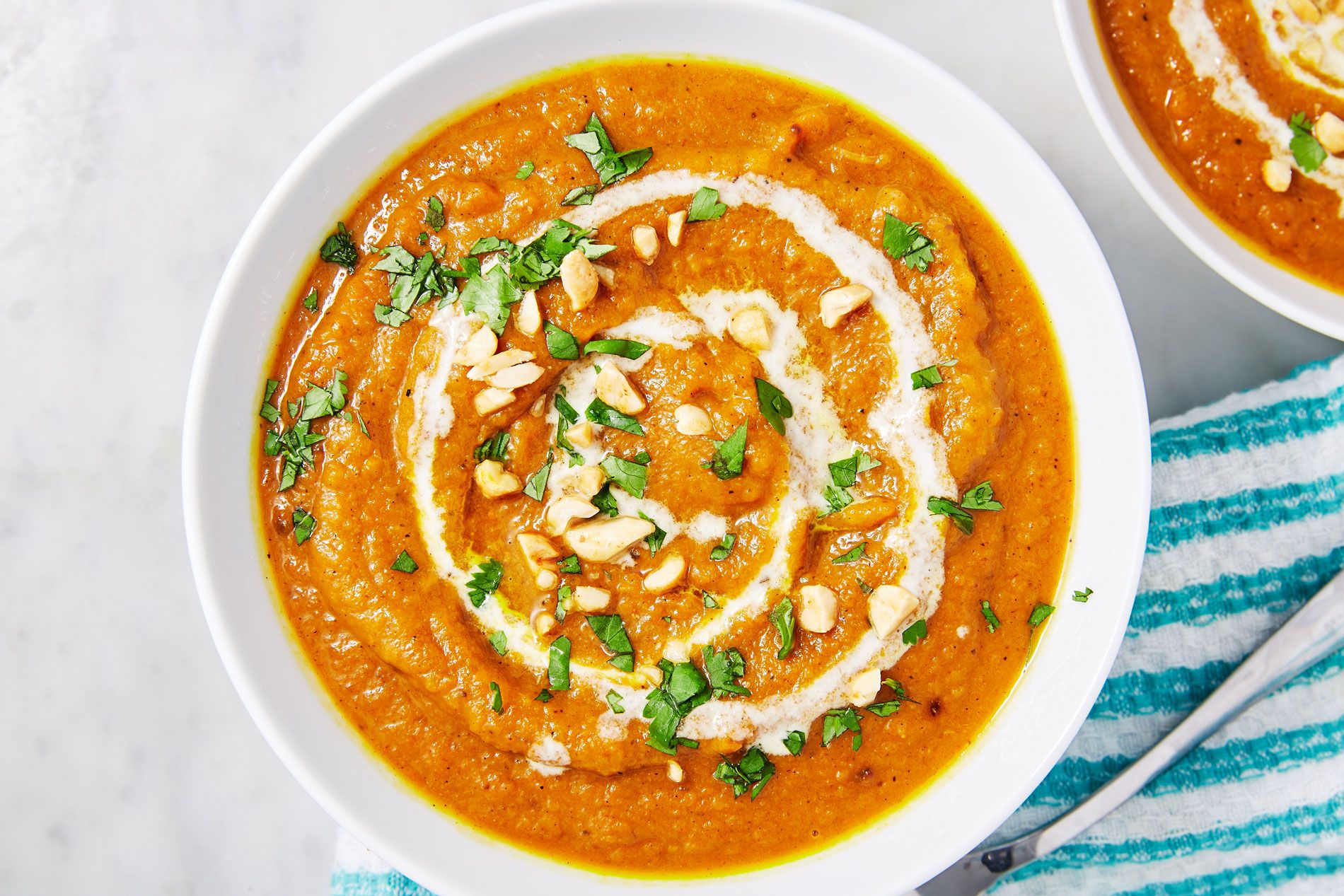 This is a simple, 30-minute butternut squash soup infused with coconut milk and garam masala. A soul-warming, flavorful soup that's perfect for fall and winter. Served with sautéed paneer.
Prep Time

15 min

Cook Time

15 min

Total Time

30 min

Yield

4-6 servings

Serving Size

200 g
Cuisine

Course

Suitable for Diet
Ingredients
6 cups butternut squash (diced) (1 medium butternut squash)
1 cup diced carrots
1 cup sliced onions
3-4 cloves garlic
1" piece ginger
1½ cups shredded kale/spinach
1½ tsp. cumin seeds
1 tsp. garam masala
2 tsp. coriander powder
3/4 tsp. turmeric powder
1/8 tsp. asaphoetida
2 tbsp. olive/avocado oil/ghee
1 lt. coconut milk beverage/water/veg stock
1 can coconut milk
1 cup stock/water
1 cup diced paneer/firm tofu/cashews/hemp seeds
Salt to taste
For the dressing
1 ½ tbsp. extra virgin olive oil (cold pressed)
1 tbsp. flax seed oil (cold pressed)
1 ½ tbsp. apple cider vinegar (unpasteurized and alive)/Lemon juice
1 tsp. raw honey
1 tsp. whole grain mustard
1 tsp. crushed garlic
1/8 tsp. pepper
Salt to taste
Method
1
Roast the diced carrots and butternut squash on a sheet pan with 2 tsp. of oil. (if avoiding oil, can roast them without oil too). Puree the vegetables with veg stock to get a soupy consistency.
2
Heat oil in a deep pan, add asaphoetida and cumin seeds and sauté till the cumin seeds change color.
3
Add chopped ginger, garlic and onions and sauté till translucent.
4
Add coriander powder, garam masala and turmeric powder and mix.
5
Add shredded spinach/kale.
6
Add the pureed squash and carrots, mix well and bring it to a boil.
7
Add coconut milk and bring to a boil again.
8
Heat a tsp. oil in a frying pan. Add diced paneer/tofu and sauté lightly. Sprinkle roasted cumin powder and chili powder and mix. Remove from heat and keep aside (can top with toasted cashews/hemp if want to avoid paneer/tofu).
9
Pour soup in bowls and top with sautéed paneer.
10
Serve hot with a lemon/lime wedge.
Share this recipe